The October Mentor Academy gave mentors a chance to learn a new activity, game or craft to share with their mentees. Mentors also learned about resources available to find activity ideas on the newly updated TeamMates website and how to submit their own successful activity ideas for other mentors to try. TeamMates staff led mentors through different activities and everyone had fun while learning something new.
Acing Math Card Game
UNO, Phase 10 and Skip Bo are popular card games mentors and mentees enjoy playing when they meet weekly. At the October Mentor Academy, mentors learned a new card game that tested their math skills.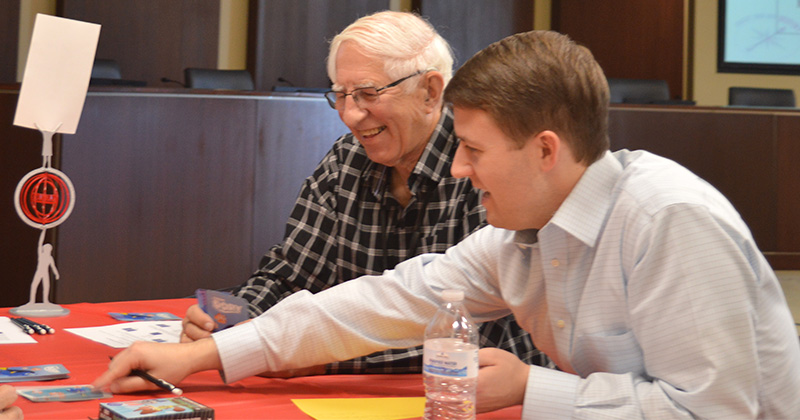 Mentors, Jerry Sellentine and Lane White, share a laugh while learning a new card game. You can download the instructions for this card game, along with over 50 other math-based card games to play with your mentee.
Holiday Slime
Mentees love making and playing with slime and there are hundreds of different slime recipes. Mentor Support Specialist, Stacey Blizek, showed mentors how to make slime using glue, water and borax. Then mentors decorated bags as monsters to make the slime even more festive for Halloween.
Mentor, Linda Zabel, wasn't afraid to get her hands dirty to learn how to make slime.
Impress your mentee and make this slime recipe for a fun, Halloween-themed activity.
Makerspaces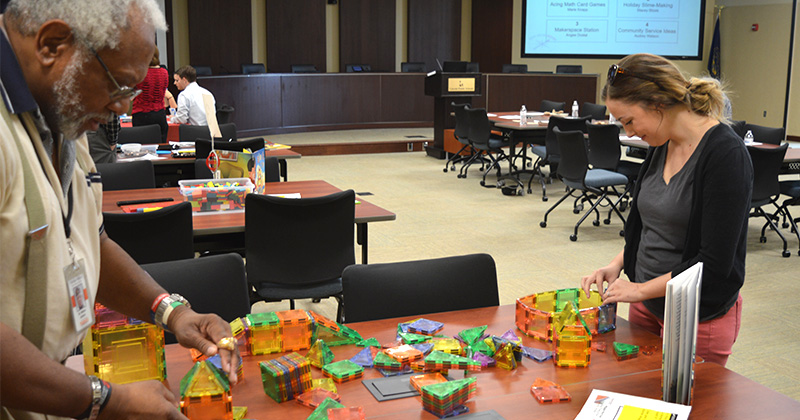 Makerspaces provide creative, hands-on ways for mentors and mentees to engage in designing, experimenting, building, etc. Mentors had a chance to tinker with three different Makerspaces available through LPS. Every school in LPS has Makerspaces available; check with your school's Media Specialist to see which Makerspaces are available for you and your mentee.
Community Service Project
Each month, TeamMates will offer a new community service project for mentors and mentees to participate in together. TeamMates Project Specialist, Audrey Watson, shared this month's project of making tissue paper flowers for patients at St. Elizabeth's Regional Burn and Wound Center.
Mentors, Shari Styskal, Tracy Edgerton and Jacqueline Kehl admire each others' tissue paper flowers.
These tissue paper flowers are sure to brighten patients' spirits. Find out more about this month's community service project and find the instructions to make your own tissue paper flowers.
At the October Mentor Academy, TeamMates staff shared just a few activity ideas with mentors; if you're looking for more ideas for activities, please visit our Activity Page!