July 2018 TeamMates of the Month: A Game Changer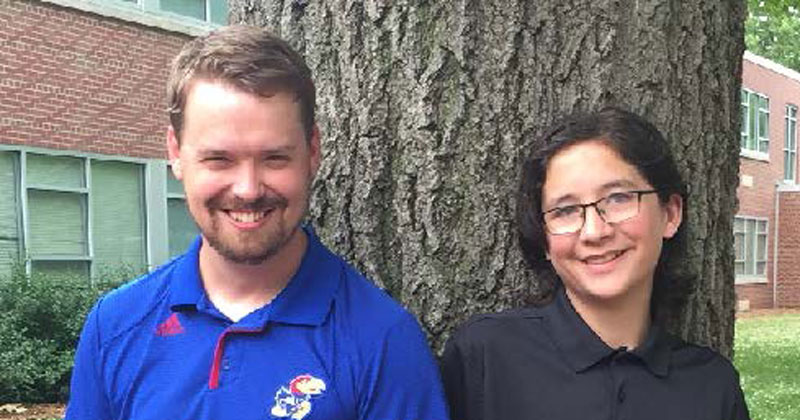 Isaiah was only a fifth grader at West Lincoln Elementary when he first met his mentor, Tyler Niday. The two didn't know what to talk about at first, but then the chess board came out.
"He crushed me," admits Tyler with an affectionate glance at Isaiah who is preparing to enter Lincoln Northeast High School as a freshman in August.
Turns out chess was only the first of several games that cemented their bond. Later, Tyler introduced another strategy game to his mentee, Settlers of Catan. "We get a little competitive," says Tyler. The games have become a standard during the weekly meetings and who dominates is another game.
"I think I'm still the winner of the last game," Isaiah says, further revealing the bonds of admiration and respect between the match.
Isaiah wins in many ways from his affiliation with Tyler.
"I didn't really have that many friends back in fifth grade, and I got bullied a little bit, so Tyler was one of the first friends I had," Isaiah says. In elementary school, he struggled to get his homework done. "I kept it in my backpack which got bigger and bigger . . . If it was too hard, I left it for the next day, which became the next month."
During their weekly meetings, Tyler would inquire about school, but Isaiah sidestepped the question. Over the course of their four years together, their relationship became more comfortable and trusting, and each could share more honestly about life. "I used to be pretty immature," says Isaiah, "but now my parents praise me about how I've grown." He credits Tyler with helping him become more mature, confident, and responsible.
"I'm so proud of him." Tyler shares a pleased look with his mentee. "He's an A student now."
Isaiah isn't the only one changed by their interactions. "I've become a better listener," Tyler says. "I have two young children, and listening to Isaiah, I've gained perspectives that have made me a better parent."
Tyler and Isaiah's more recent meetings still feature games – sometimes chess, sometimes Settlers of Catan, sometimes basketball. One of their best memories came during an intense contest of H.O.R.S.E., a basketball shooting game. On this day the two had decided to make the game a half-court competition. At the pinnacle of battle, Isaiah attempted a final backwards, over the head shot, and, "Swish, I made it!" he says with a satisfying smile.
The impact of TeamMates on this pair is clear. "It's cool," Tyler says," to have a time set once a week to get to know somebody, then watch that person grow."
Isaiah adds, "It's fun. You get to hang out with a stranger, at first, but a friend later on."
Both anticipate their future relationship continuing through high school and beyond. Isaiah aspires to become an astronomer and is considering the math and science courses he'll be taking during high school and the universities he might attend. There is no doubt that he is capable of achieving his goals. What began with a game of chess has blossomed into a game-changing relationship for Tyler and Isaiah. "I'll be around for a long time," says Tyler with a grin.