TeamMates Help Dogs Hoping for a Home
TeamMates mentors and mentees spent March making fleece dog toys to give animals awaiting adoption at Capital Human Society something to pass the time.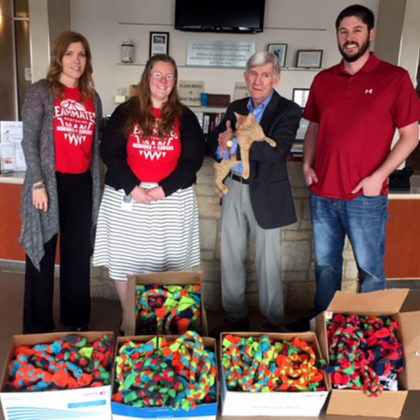 Each year, Capital Humane Society takes care of approximately 6,500 animals. Animals that did nothing wrong, but are now on their own and waiting for a new home. They serve the community by sheltering unwanted pets, acting as an advocate for animal welfare, and striving to educate the public about responsible pet care.
TeamMates mentors and mentees took the opportunity to show their appreciation for the work Capital Humane Society does for our community and to show their love for some less fortunate animals in Lincoln. Approximately 75 matches helped to produce an impressive 143 toys for Capital Humane Society.
Thank you to all the mentors and mentees who lent some love to animals in need in our community!
To find more ideas for projects to work on with your mentee check out our Activity Ideas page.