We can't imagine a brighter silver lining to this pandemic year.
A private donor who knows the difference mentoring makes will incentivize Lincoln TeamMates giving during this year's Give to Lincoln Day through a $25,000 dollar-for-dollar match.
There's never been a better time to give generously.
As in prior years, we will receive a proportional share of $500K in challenge match funds through the Lincoln Community Foundation. In addition, this private match means that all Lincoln TeamMates gifts up to $25,000 will also be DOUBLED at the end of Give to Lincoln Day!
As you might imagine, this year was a transformative one for Lincoln TeamMates, full of new moves and new milestones. Many mentors masked up and navigated new safety policies to see their mentees weekly at school. For remote students and those whose mentors did not feel comfortable mentoring in person, our staff hosted Zoom mentoring every day of every week with an average 58 TeamMates matches per day or nearly 300 per week. As vaccinations became available, we cheered those able to resume in-person visits.
As we look to next year, we will expand recruitment efforts to give the gift of mentorship to our many waiting students.
To help, you can securely give to many wonderful Lincoln nonprofits, including Lincoln TeamMates, now through May 28 at Give to Lincoln.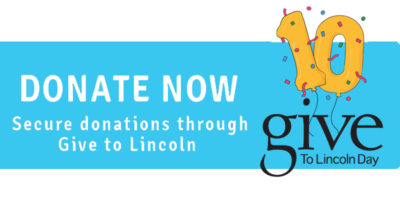 ---
Will you help share the Lincoln TeamMates story you know so well? Here's how:
Share your TeamMates story in a social media post with the link to the TeamMates Give to Lincoln page:
Share your TeamMates story in an email to friends dedicated to youth work and include the link to our Give to Lincoln page
Use #GiveToLincolnTeamMates in your social media posts
Update your Facebook profile with our TeamMates Give to Lincoln frame
Feel free to use the story template below (or create your own!):
I've been a Lincoln TeamMates mentor for [insert #] years. I've watched my mentee(s) grow in ways neither of us could have imagined. For example [insert a specific example without sharing any images or personal information about your mentee] I urge you to join me in supporting the 1129 Lincoln youth already meeting with a TeamMates mentor to reach their full potential and to help recruit mentors for the many youth who are waiting. Please consider a donation to Lincoln TeamMates on Give to Lincoln Day.
Thank you!